Our 2021 2022 Curriculum Statement can be downloaded here.
In the academic year 2020/21, the Government allocated Catch Up Funding to all schools following the missed time in school due to Covid'19.  The impact of this funding can be found in our Catch-Up / Recovery impact statement, which can be downloaded here.
Park Hill Infants School provides a learning environment where each child is helped and encouraged to develop his or her full potential in a happy, caring and stimulating environment.
We believe that the curriculum is more than just the development of subject-based skills, knowledge and understanding, it also makes a vital contribution to the development of the children's attitudes and beliefs.  Our statement for Spiritual, Moral, Social and Cultural development can be viewed here.
We ensure that through our school vision, values, rules, curriculum and teaching we promote tolerance and respect for all cultures, faiths and lifestyles.  Our document 'Preparation for Life in Modern Britain' can be viewed under our 'Policies' section.
The school complies with the statutory requirements of the Early Years Foundation Stage and The National Curriculum. The curriculum also includes the development of positive personal attitudes, a sense of responsibility, care for people and the environment and a mutual respect for the contribution of each individual within the school community. We try to provide the children with an ever widening range of experiences which include doing, discussing, taking part and sharing.
SUPERSKILLS FOR LEARNING 
Children are encouraged to be independent in their learning and develop and use the school's ten "Superskills for Learning".  An effective learner is someone who… makes connections; collaborates; communicates; perseveres; is reflective; is confident; is creative; is a risk taker; is resourceful; is curious.  Children are rewarded for using these skills in their learning and are able to recognise these skills both in their own and others' learning.
GROWTH MINDSET
Children are encouraged to develop a growth mindset attitude towards their own learning. Children will learn:
Talents can be developed and great abilities can be built over time
To view mistakes as an opportunity to develop
To be resilient (they never give up)
To believe that effort creates success
To think about how they learn
PHONICS AND EARLY READING AT OUR SCHOOL
Embedding a life-long love for reading is at the heart of our Curriculum. Across the school we have developed an engaging and stimulating environment for reading, containing a wide range of text types and genres so that all children experience and learn from different structures, styles and formats of literature. Our teaching staff immerse children in high quality literature, and read to our children every day, engaging them in stories and characters and delving deep into themes and morals, fostering a whole school reading culture with great enthusiasm and love for books, reading and story-telling. Every child engages with a broad range of texts which inspire their own interest in literature including factual books, newspapers, play scripts, poems and comics.
We follow the Little Wandle Letters and Sounds Revised 2021 SSP Systematic Synthetic Phonics (SSP) Programme. This programme is progressive and systematic, developing children's phonic knowledge in order to read automatically and fluently. Every class takes part in daily, focused Phonics lessons which are organised so that all children learn simple to more complex 'Grapheme-Phoneme-Correspondences (GPCs) while taking into account the frequency of their occurrence in the most commonly words. All of the graphemes taught are practised in words and sentences, and the children then apply what they have learnt in order to de-code independently from fully decodable books. Children review and revise these GPCs and words, daily, weekly, across terms and years, in order to move and embed this knowledge into their long-term memory. We ensure that all children have the opportunity to develop what they have learnt with daily practise to encode using the learnt GPCs.
We believe that all children need to learn to read as quickly as possible, so that they can move from learning to read, to reading to learn. Our expectations of progression are aspirational yet achievable and we ensure pace, practice and participation by all children. For any children who are not keeping-up with the programme, we ensure that immediate intervention is put in place daily and they are given additional practice through 'Keep-up sessions' in their class. Progress is monitored very closely to ensure all pupils receive targeted support as and when needed.
Every day, each class has an additional reading practice session known as 'Book Club' which focusses on three key reading skills: Decoding, Prosody (reading with meaning, stress and intonation) and Comprehension (understanding the text). The children work with their teacher in small Book Club reading group to practise these skills using a shared text, as well as having opportunities to engage independently with decodable books, 'reading for pleasure' texts, e-books, and reading comprehension questions. Reading is strongly embedded in every area of our curriculum throughout the rest of the school day, and the reading of unfamiliar words and new vocabulary are referred to and practised in all subjects.
Throughout the week every child practises independent reading from a decodable reading book which they read in school with guidance from school staff, and then take home with their 'Reading Diary' for daily practise and home/school reading communication. Each child is also given a specific Reading Target which is reviewed regularly and kept inside their Reading Diary. The reading books are re-read to build upon fluency and automatic word recognition and decoding. These decodable reading books are selected carefully for each individual child from our school reading scheme Little Wandle Letters and Sounds Revised by Collins Big Cat, and are carefully matched each week to the child's individual phonics phase with on-going assessment from their Class Teacher. Alongside these decodable reading books, we value opportunities for children to choose their own reading material following their own interest and read for pleasure. We offer every child an additional free choice of 'Sharing Reading Book' from our well stocked classroom book corners and school library each week.
Our aim is for every child to leave us with the ability to read age-appropriate texts independently with expression and fluency, to be able to explain what they have read, and to be able to transfer their reading skills across all areas of the curriculum. Above all, we hope for every child to leave us with a life-long passion for literature!
PSHE - Personal, Social and Health Education
PSHE is a subject where children develop the knowledge, skills and attributes  they need to keep themselves healthy and safe, and prepared for life and work.
As a school, we have chosen to follow the 'Jigsaw' scheme of work from Reception to Year Two as it connects  Personal, Social and Health Education, emotional literacy, social skills and spiritual development together in an easy to understand format for our young pupils.
Jigsaw consists of half term units of work called 'Puzzles', each containing six lessons called 'Pieces'. Each of the 'Pieces' has a learning intentions linked to PSHE, and one linked to emotional literacy and social skills.
The content overview is shown below, from Reception to Year Two.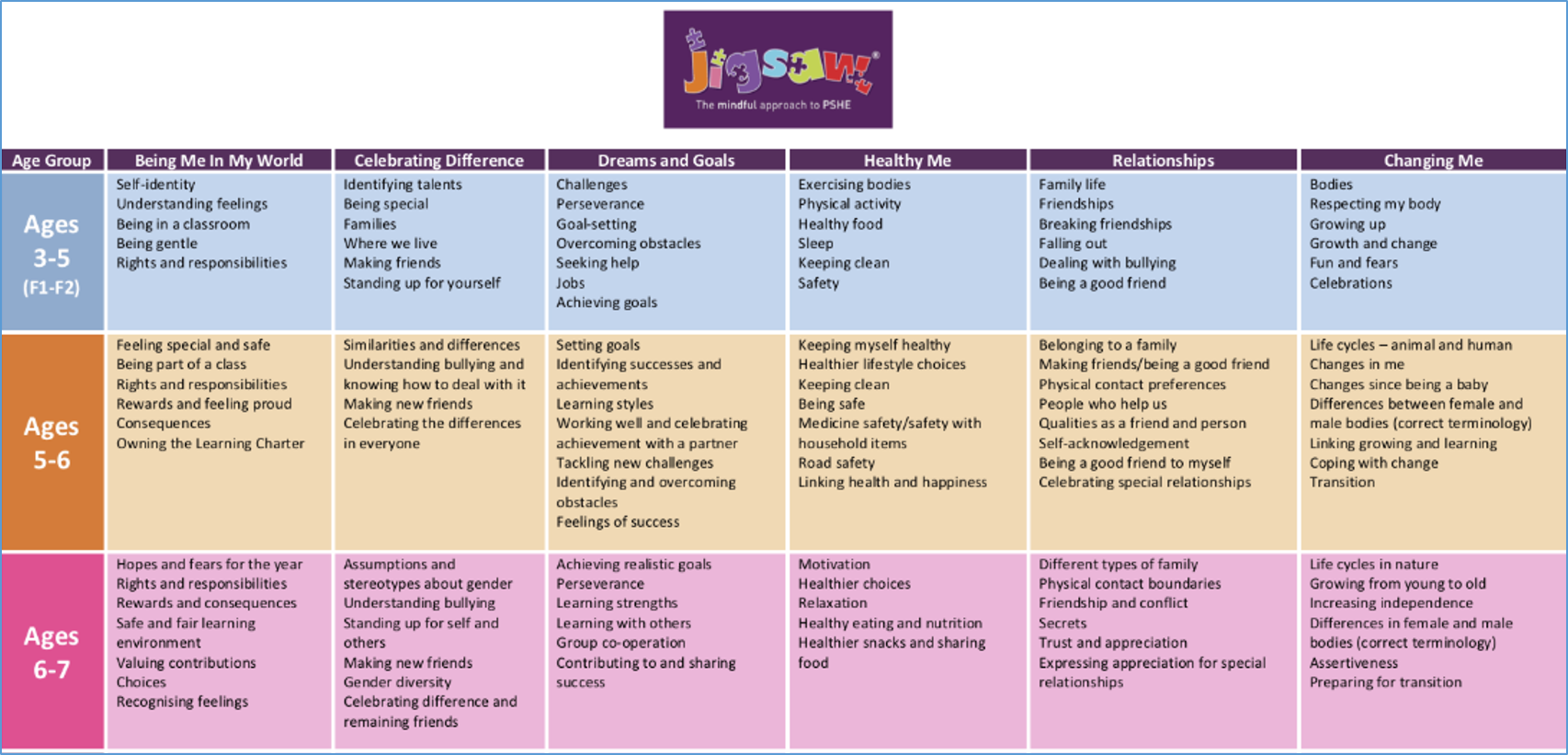 Our Early Years Curriculum covers six broad areas of experience:
Communication and language
Physical development
Personal, social and emotional development
Literacy
Mathematics
Understanding the world
Expressive arts and design
Our Key Stage One Curriculum covers these subjects:
English, Maths and Science, (core subjects).
Art and Design, Computing, Design and Technology, Geography, History, Music, Physical Education and PSHE.
We are also required to teach Religious Education to all pupils and follow the 'Croydon Agreed Syllabus for Religious Education 2018'. (Click here to view).
For more information about our school curriculum, please visit the year groups pages on this website.  Alternatively, you can contact the school via email to enquiries@parkhill-inf.croydon.sch.uk.
A member of Headship Team will respond to your query within 5 school days.